Photos by Niall Boyle
Review by Andrew Moore
Crilli DnB: GOLDIE
"Belfast… Make some fackin noise!"

A flash of gold shines across the dimly lit, carpet-fitted room at Ulster Sports Club as Goldie smiles to the crowd who rightly oblige his request. The spotlights behind the drum & bass pioneer match his glistening grill as a light layer of smoke gives off a vibe not unlike an alien spaceship coming into land. The Metalheadz co-founder grabs the mic once more.
"It's about the journey! Some of these dubs are older than some of you lot!"

You might have heard the expression old heads do it best. Every generation that comes and goes is convinced that they did it better than the current-gen. In Goldie's sense that cannot be debated, apart from the opinion that he cannot be regarded as an older head, despite his age and influence. Yes, he's coming fifty seven and has had a quite incredible life and career, but if anything he's ageing backwards like some sort of breakbeat and street art loving Benjamin Button. He's an icon – a behemoth of culture – someone who still maintains the same passion and zest for life that catapulted him into the zeitgeist in the first place. It makes catching him in the intimate, two hundred capacity room of the Ulster Sports Club all the more special.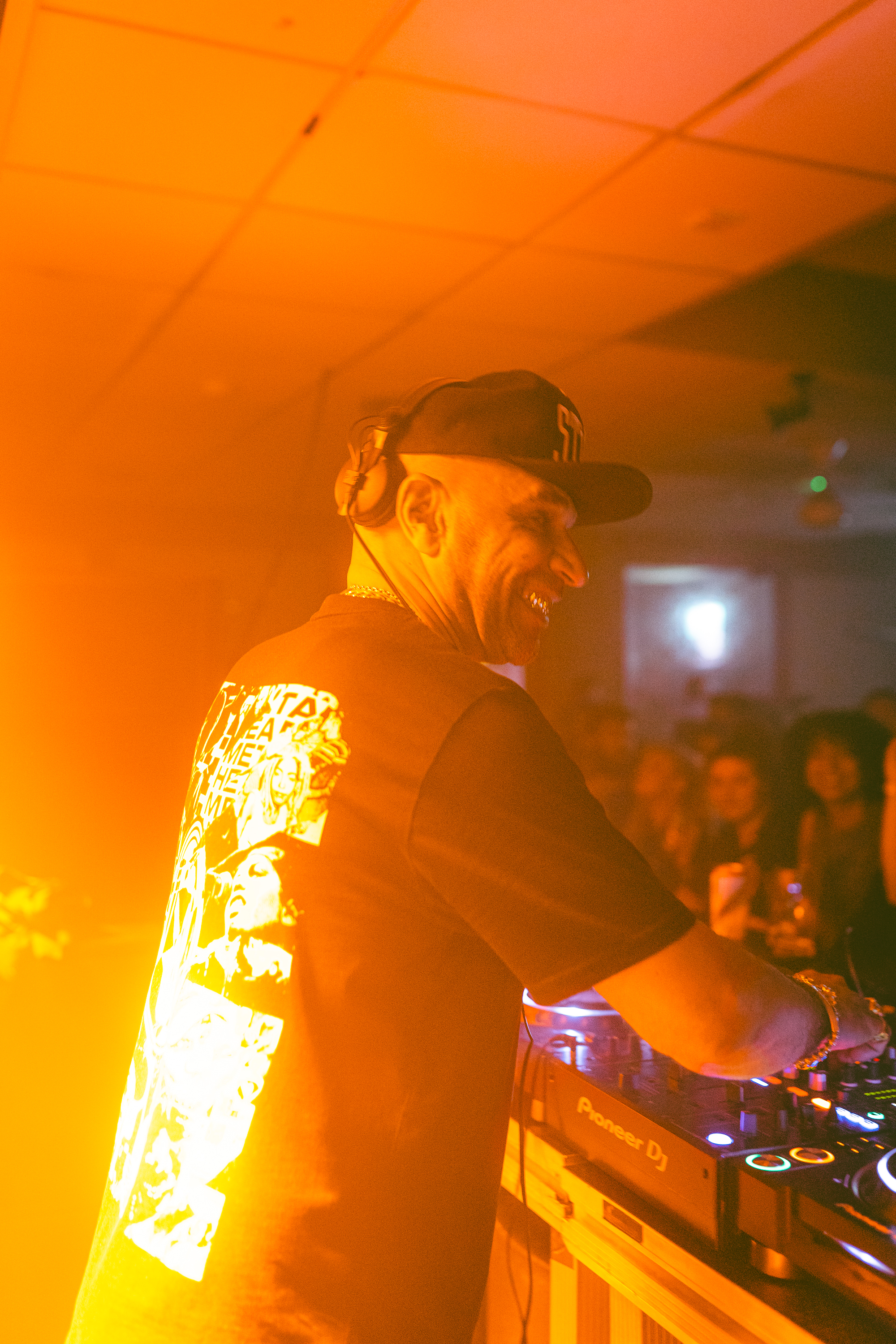 Hosted by Crilli Dnb (a Belfast based collective who have been running drum & bass parties for nearly two decades), the crew have been pivotal in Belfast's breakbeat revolution. Most notable for its house and techno exploits when it comes to electronic music, Belfast has undergone an identity change in recent years. Big basslines and breaks are on-trend, with artists such as Benton, Two Shell and Riz La Teef all making appearances in the last few months. Crilli have been repping their sound with an unyielding passion for years, bringing artists like Chimpo, Fracture and dBridge to the city and nurturing local talent such as up-and-coming MC EMBY and their residents. It's the kind of dedication that sends ripples of influence throughout the fabric of a city. The taxi driver lifting me into town isn't aware though, as I tell him where I'm off to.
"Goldie?! As in golden teeth Goldie? In Belfast?!"
If you haven't guessed already, it's kind of a big deal that Goldie is in Belfast.
Beginning with golden-era drum & bass and jungle cuts, Goldie seamlessly blends ambient interludes with 160BPM techno and B-boy breaks; "a lesson" says the wide-eyed raver next to me with his gun fingers pointed firmly in the air. Tracks like Exodus (The Lion Awakes by The Brothers Grimm and his own classic Inner City Life provide a sort of transcendent experience and Goldie even gives a new, unreleased remix of the iconic track a test drive much to the delight of the crowd.
It's more than what he's playing though, Goldie puts on a show. He's an animated figure behind the decks, interacting with the crowd and MCing on the mic. The crowd itself is a mixture of young and old faces. Crustys, students, lovers, strangers, friends, mothers, fathers and people from every walk of life dancing to the same groove.
"A lesson" indeed, and one that has undoubtedly gone down in Belfast dance music history for those lucky enough to attend.