MINDS
Collective Host Audio Visual Listening Party.
On the 29th of May, music meets mental health collective MINDS will be holding an audio-visual listening party of 22 new tracks. The tracks will be livestreamed alongside some unique visual goodness, that going by the collectives visual output so far, is sure to be amazing. (Shoutout to graphic designer

Jane Catterson

for the brilliantly textured identity!)

Belfast based MINDS is a label and club night (during normal times), with 100% of profits all going to local mental health charities. This time around it's

PIPS Hope & Support

. You're probably already aware of the realities of our mental health crisis and statistics here, so why not try to help out a bit while enjoying yourself to some incredible beatmakers from Belfast and beyond.


The session will be available via Bandcamp and as well as being a night of virtual wonders, it will incorporate some good old fashioned audience interaction. After all the tracks have been ingested, the listening party turns democratic, with the audience being given a vote of their favourite 4 tracks to be put to wax via Split Milk Rekords. While the favourites of the night will come to life through vinyl, the rest still be put out into the world digitally.


Make sure you grab your

ticket

and prepare yourself for a wonderful multi-sensory night of tunes and visions to help out your MINDS!
MINDS:︎BANDCAMP︎FACEBOOK︎INSTAGRAM
About Us


YEO Magazine was created during the first lockdown back in March 2020 to celebrate the stunning array of local creativity and culture in all its forms.

With our printed magazine being released every two months, we aim to bring creative culture to the hands of people already in the know as much to those who aren't.
YEO


Contact:
yeobelfast@gmail.com
Stendhal Festival Is Leading the Live

By Natasha Rainey
︎ ︎



The words "live music" are practically as tempting as their referent. Could festival season really be upon us? Stendhal Festival says yes!
M
arking 10 years of Stendhal, the Limavady based event are pitching themselves back on Ballymully Cottage Farm for two weekends of pure live music - that doesn't require a stable Wi-Fi connection.
Some 13 months ago, venues locked their doors and gig-goers moved to streaming sites. Festival leaders like Glastonbury and Primavera Sound have been postponed, again, to summer 2022. Even with provisional live events happening in Liverpool and Barcelona, the future of live music remains unclear. Nonetheless, the folks at Stendhal are saying no to another no-go festival.
Founders of Stendhal, John Cartwright and Ross Parkhill, have made clear their intentions to go ahead with the festival this summer with COVID safety measures in place while ensuring
that
intangible experience of festival culture that feels almost lost in the bureaucracy of the pandemic.
"It'll be a case of social distancing markers, social distancing marshals, hand sanitising stations, signage, bubbles; things that are becoming regular within our own lexicon at the minute. So, it's nothing people won't have seen before. It's just a case of taking those existing measures and putting them in an outdoor festival setting."
– JC
Safety guaranteed, can gig-going ever be truly recovered? The looseness of live music before the pandemic is now under scrutiny, it's sort of like if you transmit a disease, it's probably at a gig. But I'm thinking more STIs.
Beyond sweaty crowds, however, are hardworking people.
"The big thing about getting live music back is that it's an industry that has almost been abandoned during the pandemic – musicians and performers were the first people to stop and they're going to be amongst the last people to resume.
These are working people that have bills to pay and mortgages and families and I think it's getting to the point now where it's vital that they're at least given an opportunity to get back and do what they do.

On top of that, people love gigs. It might sound frivolous there are people out there that live for gigging. It can affect people's mental health, their community, their friendships, their connections. There are loads of reasons why we have to do something to get guys back on-stage playing music." – JC
That's the thing about live music, streamed music or music in general. It's a keystone of culture, especially in Northern Ireland. Headphones in, world out – amirite? Northern Ireland is host to a multifaceted culture of talent, beyond music, however, oppressive political narratives overtake the need for a cultural reformation. Some look to mainstream radio, some are told what to listen to and a lot do not know the capability of the Northern Irish identity. And even if us natives do, does anyone else?
"From day dot the festival has been about promoting the arts in NI. This year's programme is going to be 85% Northern Irish. Most years it is 85%, the difference this year is we'll not be bringing anyone over the water, so to speak, it'll all be Irish. That's been the driver."
– RP
"A fantastically frustrating thing for us in the 10 years we've been doing this is watching really, really talented Northern Irish acts come and then go because they don't seem to be given the time of day by what would be considered the mainstream music industry. I implore anybody to go and listen to the guys we've got playing this year: go and listen to Amy Montgomery; go and listen to Ciaran Lavery; go and listen to Joshua Burnside; go and listen to Roe. Any of these guys go and listen and tell me they're not as good as what's on Radio 1 or the charts or what is being downloaded on Spotify. I challenge anybody to tell me they're not as good as anyone else that's out there.
You don't need to be going elsewhere to find top class artists, it's right here on your doorstep. And they need your support." – JC
"Another issue with Northern Ireland is infrastructure. We can't go down to Limavady, which is a small town, and see original music all the time. And it's the same with Cookstown or Strabane. There's no real infrastructure for artists of great quality to carve out a career within Northern Ireland. So, showcasing over 90 over a normal Stendhal weekend is ultimately a big celebration of what we've got.
It's very hard with our leadership and the value placed on arts and culture. I would be really keen about a collective of people going to reinstate the department of Culture, Arts and Leisure. Especially post-pandemic. To give a real focus, to be at the top table in Stormont, look at funding for arts and culture per head here compared to Scotland, Wales, England – it's a bit of a joke. We live in a post-conflict society which none of them do. So, in 10 years' time it could be great. "– RP
"That's not to say that within the 10 years we've done this - there have been pockets and places that you can see growth. There have been labels and management companies cropping up. There is a micro-industry in Northern Ireland, but there's a way to go. In saying that, there are people with passion. It's just about getting that ball rolling.

The sheer precocity of John and Ross is astounding by seeing the Stendhal grounds in the '21 Festival infancy. But the pure grind of these two lads and their team is evidenced by much more than a visit to Ballymully Cottage Farm. 10 years in the making, Stendhal has gone from strength to strength ultimately valorising their mission of endorsing arts and culture and stapled in its truly Northern Irish base.
While COVID has struck cancellation posts to nearly every other festival, Stendhal went into a survival of the fittest mode. Practically the last festival in Europe to call it quits, the event compromised to present live music in some form.
"We didn't really take a year off. We tried valiantly to run 500 people four weekends in a row. We were kinda the last to pull the pin on that of festivals in Europe that cancelled. So, we've been working the whole time and I suppose the drive is we love what we do. We've invested 10 years and we're very passionate about it.
To contextualise the sacrifice, money and investment that has gone into this, in the last 5 years for example, all the other festivals in Northern Ireland, we'd be at the same level as, have got from the Arts Council between £300,000 and £600,000, one of which got £1.2 million. In that 5-yea r period, we got £19,000*, so it's quite a gap. And we build a pop-up town for 10,000 people they go into purpose-built venues with toilets and all the stuff." – RP
The enthusiasm embodied by John and Ross is enough to buy a ticket. But where did Stendhal start?
"This man [Ross] said to me: "do ya think your dad would let us the fields for a weekend to run a festival." Before we had even run a gig night, from that minute in 2008, this festival has slowly morphed into our absolute worlds. The fighting we've had to do for it, the badgering we've had to do for it, the absolute brass necking that we've had to do to get where we are and deal with the fact that nobody had done anything like we have tried to do in this area before. And nobody knew how to go about it. We've worked our absolute backsides off for this, not just us but our team. We've had a team of volunteers with us that have been there the whole way.
We grew up here, we love here, we were never able to go to gigs here. We wanted something we could point to and say, "this is what Limavady is." And here we are sitting 10 years in and all we can really think now is "look what we've achieved." But in the back of our minds, it's "what if we could do this?" The potential for this place is massive, absolutely massive, and that is something that's going to keep us coming at this for as long as we breathe, pretty much." – JC
Stendhal Festival will take place 9th and 10th July & 12th – 14th August at Ballymully Cottage Farm, Limavady.
Camping and caravan parking is available on site.

15.

05.2021




PM FOR GUESTLIST ❤️️
By Kirsten O'Neill

[TW: sexual abuse and rape}
"PM for Guestlist."
A familiar phrase to those with a social media account in the last decade. In Belfast, and the rest of the UK, many begin clubbing at 15 - some younger, some older. You graduate from drinking a barrick in a field to messaging someone you barely know, who vaguely looks like you for a lend of their ID for the weekend. In the UK and Ireland, underage drinking is the norm, a rite of passage some might say. But over the years I feel it has got even younger. With the expeditious development of social media, the teenage need to be perceived as older burgeoned. Society is evolving faster than it ever has. Too fast, I believe, for the correct adjustments to be made to law, social norms and how we perceive the young girls who work for night clubs.


Naturally, local clubs and nights compete for attendance; music, aesthetic and who attends makes each night its own and different from the next. People like different music, vibes and aesthetics and will flock in abundance to whatever one tickles their fancy. Teenage girls appear to be the most active participants in social media. As a matter of course, underage girls are scouted out on the internet based on who they are 'friends' with on social media, but more crucially, what they look like. Essentially, clubs prey on young girls who have a substantial online following that is their target audience, and who have beautiful/ edgy/ classy or sexy pictures that benefit their brand and desired image. It is crucial this image is maintained to be more successful than their competitors.


Greed is what breeds a competitive market. Using underage girls as bait to get men to attend in hopes that 'birds' as great as HER will be there is for sure a brilliant system for brand owners and predators alike. What we must understand is that when advertising and constructing a business model such as this, you are going to gain the attention of predators and creeps, as attendees or even as workers. Predators are usually smart and very sly. This strain of PR work is a social media facade, where young vulnerable girls technically advertise themselves and their underage friends as 'whips' who will be in attendance. This is nothing short of vulgar.

Young girls are undeniably and famously the most vulnerable and impressionable group of people on this planet, making them the ideal target demographic for a successful business or brand.

The beauty industry is a thriving, multi-billion-dollar commercial enterprise wholly because of this fact. They abuse female vulnerability, contriving an unattainable standard of beauty, causing traumatic after-effects and crippling self-consciousness to run rampant amongst the most insecure and impressionable people in society. Making this the unquestionable norm shifts the blame onto the young girls it aims to destroy. This is a sure-fire way to a capitalist dream and a feminist nightmare.


What nightclubs and the hospitality industry has done is not at all different. Greed comes before everything. Money and notoriety are the two biggest drivers of power we humans have ever known. Teenagers are by nature insecure, rebellious, and naive. They cling to whatever they need to for a sense of security, belonging, confidence or approval. Being seen as cool, popular, and more mature is their ultimate priority - throw in the incentive to make some money and a club PR job is the teenagers one way ticket to self-satisfaction. Sucked in by the illusion of clout. Rebellion. Maturity. Coolness. They are young and wide-eyed and should categorically be protected, not preyed upon and used as bait for hungry clubs to benefit from in clout, image, and money. Not only is this an immoral abuse of power, the type of misogynistic, vile party culture it creates upholds and protects predators, creeps, abusers, and rapists. This environment is a dream come true to them. Not only are young girls running rampant, drunk with their guard down - nobody cares if you take advantage of them.


This theme park of vulnerable underage girls is horrifying enough before I even mention the role drugs has to play in it. Most recreational drugs are illegal because of their potential danger. No-doy. But they have always and will always be a part of our society. The drugs add another layer of disorientation, confusion, and trust to an already doomed group of young women in a vicinity where they are not adequately protected. It is not uncommon for drugs to exist in nightclubs, usually prompted by the musical or social aspect of clubbing. But it can also be an escapism, that some take too far. Or even worse, used to spike people. Under 18's are not legally allowed in clubs for this (and MANY other) reasons. So why on earth are they being scouted to work there?


It is not only under 18's who suffer in this environment. A man will feed a woman gear all night under the guise of having a good time. He waits until near the end to make his move, after hours of drinking and taking gear. To him, she should be expecting it. She says no and outrage ensues. She leaves because his friends tell her to, shouting, "Aye but you'll sit here and take his gear off him all night". This is nothing but a more vulgar, modernised, version of, "but I paid for your dinner, you owe me". Sex should be had because both participants want it, not because one feels the other owes them it. Understatement of the eon.


Women of all ages are let down in the hospitality sector. Misogyny, slut-shaming, blackmail, coercion, flashing, assault or having to flirt for tips. The double standards are endless and fucking unfair. Sexism has always been around but now is the time to eradicate it.

If you create a brand that specifically claims to be inclusive and a 'safe space', predators will take advantage of it.

They will take advantage of the fact that people, in particular young women will have their guard down. If you are not equipped to handle this, you directly help perpetuate a culture that enables creeps, predators, and rapists. Whether the clubs are themselves involved or not is hard for me to say, but they certainly turn a blind eye for their own benefit and profit. Our own justice system fails victims all the time. We desperately need justice reform, and many have been fighting for that for years. The law is very hard to fix, so it's important we make change where we can.


We definitely do need a 'safe space' to club and party, but if all you are doing is promoting your brand as creep-fighting feminists online, with no safeguard training done (which is freely available here)) and underage girls galore, you're less revolutionary feminist and more wolf in sheep's clothing. How can you set people at ease like this while abusers run rampant around the club or even work there themselves? What kind of environment is that? Most clubs don't brand themselves as feminist icons and rightly so. Nightclubs and bars are a cesspool for predators, sexual assault and rape as there are drunk, vulnerable people everywhere. A no tolerance policy doesn't exist just because you state loudly on Instagram that you have a no-tolerance policy. You have to actually tolerate none of it.


You shouldn't be afraid to say what you feel is right. If you end up being wrong at least you know your intentions were pure, and if you're right you're making a difference. Silence helps no one but predators and abusers. Some seem more concerned with a man's reputation than the violation of a woman's mind, body and soul. But if innocent, a reputation should be easy enough to rebuild, it is not as easy to rebuild yourself after rape or sexual assault. People forget, but the body doesn't. Trauma is very fucking real and effects people for the rest of their lives. If you are quick to defence, maybe ask yourself why. Is it because you genuinely disagree with me or because your ego is hurt? Look inward. Or around you.
26/02/2021


CITY HALL: GOTHS , PUNKS AND EMOS.


by Natasha Rainey
︎ ︎



Photo provided by
Caoimhe O'Connell
Goths, emos and punks are some of Belfast's most prominent personalities. Usually seen congregating outside City Hall, touring to St Anne's Square or overflowing the now derelict venue, the goths, punks and emos are a natural force in the ecosystem of Belfast's developing social culture.

Parading the city adorned in Fresh Garbage attire, the customary studded belts and chunky boots to stomp their ground, the kids your parents didn't want you to be were relentless. However, their numbers largely dwindled since their peak in the 00s. I caught up with some of Belfast's veteran goths, punks and emos to trace the trajectory of the subcultures from Northern Ireland's dominant politics to the social media revolution.

It is characteristic of cities to embrace difference and reject the norm. In Belfast's case, difference paradoxically became a refuge for young people to escape the trauma of The Troubles and political strife integrated throughout Northern Ireland. Caoimhe O'Connell, a committed punk among the City Hall anarchists, said: "Belfast was always quite unique because of the continuation of the 70s punk scene, it was one of the strongest in the world. This carried on through the 80s, and during The Troubles, music was the one thing people still bonded over."


"I think during the 00s people began to gather at City Hall as a continuation of this alternative culture that had stayed connected throughout The Troubles. This was the re-emergence, the next generation starting to go back into town. We didn't talk about politics, we didn't talk about religion - we talked about music and bands and what t-shirt you were going to get from Fresh Garbage. I think it was the beginning of a reconciliation."

The idea that identifying as a goth, punk or emo as a form of rebellion is ironic in that seeking shelter through this seemingly radical identity was escapism from the institutionalised sectarianism in Northern Ireland. This is perhaps a more personal issue for some more than others, but the reformation of the Northern Irish identity came through embracing a new form of difference and distancing one's self from mainstream politics and religion that served as tools for coding the "norm."

In rejecting the mainstream, through the development of subcultures grew more juxtaposition. Caoimhe said: "City Hall was like a carnival – on one side there were the black clothes, piercings, 'don't look at me' goths but when everyone came together, we were like any other group of teenagers." What may appear as groups shrouded in misery were young people grappling with self-expression, solicited solely by the more socially accepting city of Belfast.


Illustration provided by ︎Benji Connell

Somehow, also shaped by religion and politics, were the safe spaces. Hotspots for goths, punks and emos are: City Hall, Waterfront, under the bridge at the Royal Mail ("New York"), Custom House Square ("News Spot"), across the road from St Anne's Cathedral. Micky Murray, a chief goth of the 00s scene, said, "we just went from spot to spot" because, "we thought where is the one place we can go to? And I think even our parents were happy for us to go there. A sort of safe area to go to." Neutral pockets around Belfast allowed these teenagers to socialise without a religious motivation or political agenda, "I didn't even know what religion my friends were. I went to a state school which was probably 99% Protestant, but I never identified with that part of my life," said Micky.

Beyond Belfast however, the status quo was sustained. Smaller towns around Northern Ireland were yet to experience this social regeneration; some are still making their way there. Micky both expressed their fondness for Belfast specifically: "I didn't know there was goth culture in other places in Northern Ireland, obviously people lived outside of Belfast, but I had friends from Omagh who came to Belfast and a group from Lisburn". Caoimhe, originally from Belfast who now lives in a rural town in Donegal, said, "we had people from all over Northern Ireland just to come and stand at City Hall."

Just travelling for a taste of solidarity, the newfound groups in the city's quarters have shaped generations of the subcultures. Now an Alliance Party MP, Micky said: "I'm gay, I came out to my family in my early 20s and came out to everyone else when I was about 14. A lot of that was because I was in Belfast hanging out with people from all over the place and everyone was a minority in a way. Everyone was so open and what progressive society is now, we were all there so many years ago. Minorities can be more progressive because there's been that form of oppression."

Nonetheless, goth, punks and emos are very three distinct identity categories. Their secular communities maintained their own different styles and music tastes; albeit the social media revolution has played a great role in diluting the strict boundaries of each culture. "Over the last decade, there was all of us at Waterfront and there were hundreds of us – you don't have that anymore," Micky said. Whether everything has moved online, or the cliques are more spread out now is up for investigation.

Kaya Lili, a.k.a. Toxic Tears, a Youtuber and veteran goth from Belfast said: "the internet has changed things a lot. It's brought a lot of good, but it's also brought a lot of problems and negativity. It's nice that it's so easy to find so many people who have similar interests, it's SO much easier to find things like music these days, there's a lot more available in general. But some days, with all the negativity and fighting and misinformation, not to mention things often feeling sort of 'watered down', I do find myself missing the days when the internet wasn't such a HUGE part of our lives. The irony of that, considering social media is literally my job, is not lost on me." In a society that seems almost flipped since the early 00s, its trendy to be alternative and the binary of goth and punk or emo no longer stand so stark.

Belfast may have been ahead of its game in the wake of goths, punks and emos; however, through the rise and fall of Facebook, the boom of Instagram and now the emergence of Tik Tok, identity categories have never seemed so ubiquitous but also undefined. Northern Ireland's religious and political faculties are progressing, but it is the foundations laid by goths, punks and emos that have allowed social media to build on subcultures exponentially since the crowds at City Hall began to disappear. Wherever Northern Ireland goes from here, there remains a safe space for more than just younger generations to explore difference.

One last piece of advice from Caoimhe: "Be who you are even if it goes against the rules of the subculture that you want to be a part of. And don't be afraid to take a sleggin'.


"Taking a sleggin' means you're ruffling feathers -which is always a good thing."

BY NATASHA RAINEY
︎︎︎︎︎︎︎︎︎︎︎︎︎︎︎︎︎︎︎︎︎︎︎︎︎
SHELLSHOCK ROCK


A pivitol DIY documentary capturing Belfast's punk rock scene in the 70's.
Avaliable for free here︎



-You can't do anything different, like, or they'll just think it's wrong.

-Who's this?

-Just society like.



Just over 40 years ago, John T. Davis released this documentary on the Northern Irish Punk scene perfectly capturing bands like The Undertones, Stiff Little Fingers and Rudi in their defiant prime. Taking the D.I.Y. ethos that Punk demanded into the process of documentary film making, Davis manages to portray the punks in a way that should not ever be tampered with.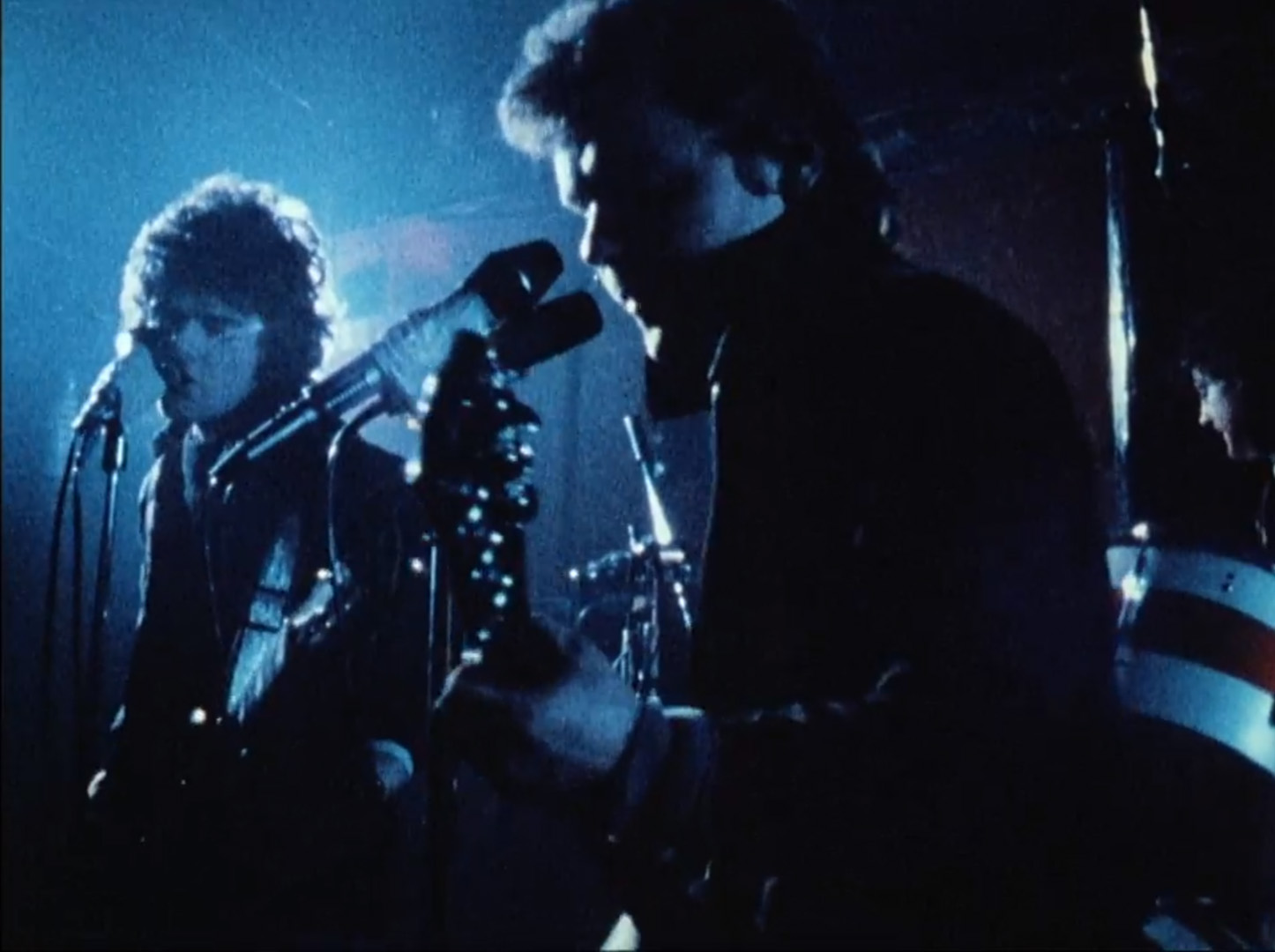 Scenes of riotous rehearsals give into scenes of punks walking down the streets of the city centre and speaking to a spectrum of passers-by. It paints the polarising opinions against the backdrop of a city in conflict from those 'in the know', to those who would rather not be on the same side of the street as anyone with a slight hint of an out of place safety pin.



The ideology of punk rock struck a chord in the Northern Irish youth that promised a path to the end of sectarianism in place for a communal anti-authoritarianism achieved through creativity. Expression and rebellion against an environment that both sides had no control over other than what they wore, listened to and the places they went like the

Harp Bar

and

Good Vibrations

withstanding their fair share of 'trouble' to act as hives for the scene.
Watching back at the scenes of pumping gigs of raw, unapologetic music by kids with weird hair and personalised clothes during a time of seemingly eternal fear from the perceived enemy next door, the human element brings a new dimension to songs that have went on to become biblical in the local scene. Anthems like '
Teenage Kicks
', '
Alternative Ulster
' and '
Big Time
' still hold up to this day and have been inspiring a generation of musicians that weren't alive in the troubles to try and kick them off their perch.
Could a pandemic be the catalyst for a 21st century punk equivalent to emerge?
Big Time.