Photo by Macy Stewart


AVA 2023: A Diverse and Unforgettable Journey of Sound in the Sun

AVA 2023 returned with an even more genre-bending lineup this year, bringing its classic vibrant array of sounds to the sun-drenched Titanic Slipways, with some extra flavours added in for good measure. Boasting 4 stages of heavy-weight acts, headsy names and local heroes alike, the iconic Belfast festival struck gold once again. Here are a few standout moments that made this year's weekend of AVA an unforgettable experience.

Photo by Clare Loughran
For us, Friday's festivities kicked off at the Nomadic Stage, where OPTMST set the tone with early bursts of heavy grooves cut with euphoric vocals. The Main Stage delivered an energetic hip-hop set by Kojaque, riling the crowd up with his magnetic presence and universally enjoyable choruses. Next, to The Pumphouse (a brand new stage with an incredible encompassing visual display), where Pretty Girl's live set brought afternoon ravers on a perfectly rowdy sonic journey, while the beauty of Overmono's performance was heightened with For Those I Love joining them on stage for the preciously raw anthem of 'I Have a Love'. Viral sensation Central Cee headlined the night, making his Belfast debut and leaving the crowd hungry for more.
Photo by Clare Loughran
Saturday brought a dynamic range of sonic wonders. The Pumphouse witnessed Emby's rapid-fire lyrics blending seamlessly with Kessler's mesmerizing electronic breaks, fostering an atmosphere of love and unity. The Grasses stage provided a remedy for any lingering hangovers with Richy Chong's infectious disco grooves, setting the dance floor on fire. Interplanetary Criminal delivered sunshine vibes, paving the way for Eliza Rose's mesmerizing performance.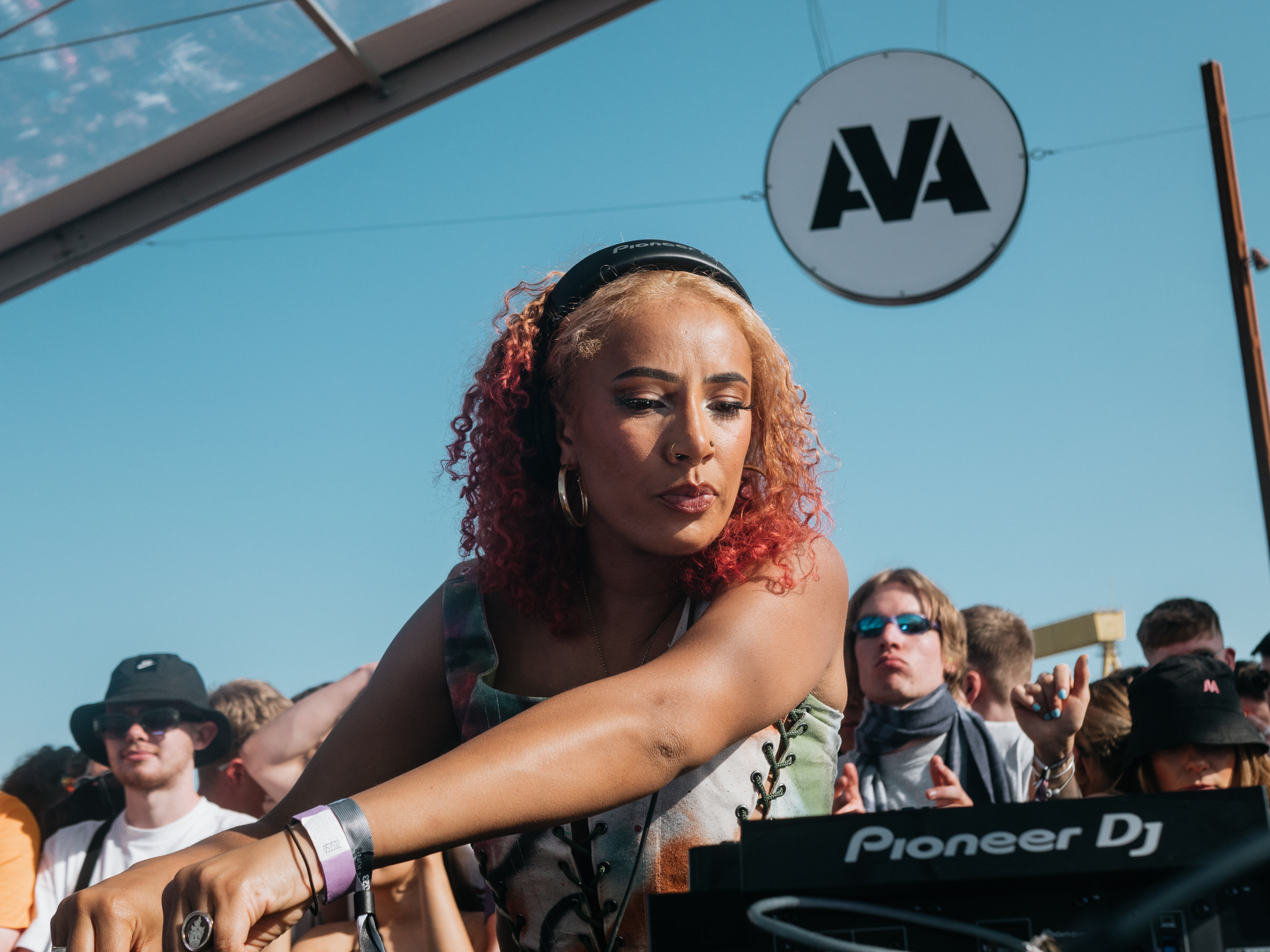 Photo by Hannah McCallum
A highlight of AVA 2023 came courtesy of Goldie, who followed DJ EZ on the Main Stage, dishing out a biblical odyssey of Jungle, DnB and breaks, proving his legendary status with his typical golden smile. Meanwhile, the Nomadic Stage got more than a fair seeing to with DJ Boring's expert selections, fueling a frenzy with his deep cuts, fan favourites and pumping remixes. The weekend with a beautiful spectacle as homegrown superstars Or:la and Sally C's joined forces in a set that was a testimony to the unifying powers of pure and classic dance music, completed by the three local Drag Queens bringing their unbeatable energy.
Photo by Macy Stewart
Blessed by the sunshine and great communal spirits, it was another successful year for the trailblazing festival, with questions already about what direction the festival will take next year. The idea of bringing in other genres around the core ethos of supporting electronic music is brilliant, so including some live acts in the world of afrobeat, funk or jazz may be the next step in AVA's evolution.
The festival continues to be a beacon of sonic excellence, attracting music enthusiasts from far and wide to revel in the magic so it's safe to say it's another massive success for the music industry and music fans of Belfast. Next year marks the 10-year anniversary of the small, one-day event held in 2014, so we're incredibly excited to celebrate that achievement with by far one of our favourite ever festivals.