PHOTO BY MOLLIE MCKAY


AN ICONIC AVA
- THE 2022 REVIEW
AVA Festival has gone from strength to strength since 2015, with every year's instalment growing in different, experimental directions. This year was no different, with a new location welcoming in fresh faces, plus an even more eclectic selection of homegrown talent sharing 4 unique stages with some iconic international names.


Adding to the excitement of our first big festival of the summer, we were blessed by some beautiful weather shining over the Titanic Slipways. As the weekend progressed, seeing the passion of the crowds and artists set against the city's landmarks only further cemented AVA as an integral part of Belfast's rising identity as a music destination.

Classic to all great festival lineups, it was impossible to catch every artist we wanted - especially when you get drawn into the energy of an artist and lost in a crowd's journey but we tried our best to catch a mixture of the local acts we love, dive into the international names and stumble onto some new favourites.


FRIDAY
BRIEN BY MOLLIE MCKAY
Kicking off our Friday afternoon was Brien warming up the Bolier Room's home at 'The Nomadic' stage. The local head brought his characteristically groovy selections of hip-hop beats and mixed them with 70's funk and soul crate diggers' delights. While we could have sat and watched Brien's set all the way through, the excitement of the day and discovering the new festival site took over.


CARTIN BY MOLLIE MCKAY
As we headed for our first drink of the day, a spinning Mount Palomar had put away his live act for the first time at AVA, in favour of a killer set on the decks at the Grasses stage. This stage was where we spent a slight majority of our time, boasting some of the more left-field acts on the iconic docks. One of those left-field acts was that of multi-instrumentalist and producer Cartin. He whipped out electric guitars and live samples that had our heads bobbing as much as he was dancing away himself. Nothing better than seeing someone enjoy their craft.

Swalls sorted, we headed back to the Nomadic to catch BKLAVA cranking up the tempos with some tech-house goodness just in time for the fast-rising electronic duo Prospa making their Boiler Room debut. The English pair wasted no time in dishing out some absolute screaming tunes to the growing crowds of AVA revellers.


MONJOLA BY MACY STEWART
While the crowds were pouring in, we took ourselves to catch Monjola, a Dublin-based artist that really surprised us. Boasting live drums and saxophones, his alternative RnB and rap blend offered a lovely change of tempo to the afternoon, while still getting the crowd moving. His set was also boosted by a brilliant guest performance of 'Where u at' with Aby Coulibaly taking to the stage, leading the singalongs and demanding the moves from the crowd.


MANGO X MATHMAN BY HANNAH MCCALLUM
Next up were the fast bars and housey rhythms of Mango x Mathman, who also hail from Dublin. The duo are notorious for high-energy rave performances mixed with Mango's heavy lyricism and they did not disappoint on their northern journey.

As the day was just breaking into late afternoon, Gemma Dunleavy returned to The Grasses stage after an iconic performance at AVA in 2021 and demonstrated why she is one of the most exciting artists on the island. While championing the only harpist on stage over the weekend, Dunleavy bounced around the stage in golden attire with songs to match. Particular standouts were her performance of the high tempo Sharda track that samples her voice, 'Nobody Else' and of course, one of the ultimate Irish songs of all time 'Up De Flats'.


GEMMA DUNLEAVY BY MOLLIE MCKAY
We took ourselves off to catch some of the top players in Belfast nightlife, in their natural habitat (behind a pair of decks on a shipyard) - Plain Sailing. While this was The Baltic stage, the Belfast duo dished out serious back-to-back heat. Flavours of UKG, breakbeat and electro were pulsing on the BBC ATL stage and lapped up by a properly rowdy crew.

The rowdiness was only heightened once down south spinner Rory Sweeny was joined by Belfast's shining emcee, EMBY. This was one of four performances by the local lyricist and it was easy to see why he is in such high demand - his unrivalled energy and lyrical technique is a game-changer within Belfast. His return to the stage for Kesslers set was a certain highlight for me, Kesslers signature breakbeats and electro tempos were a match made in heaven for Emby's style.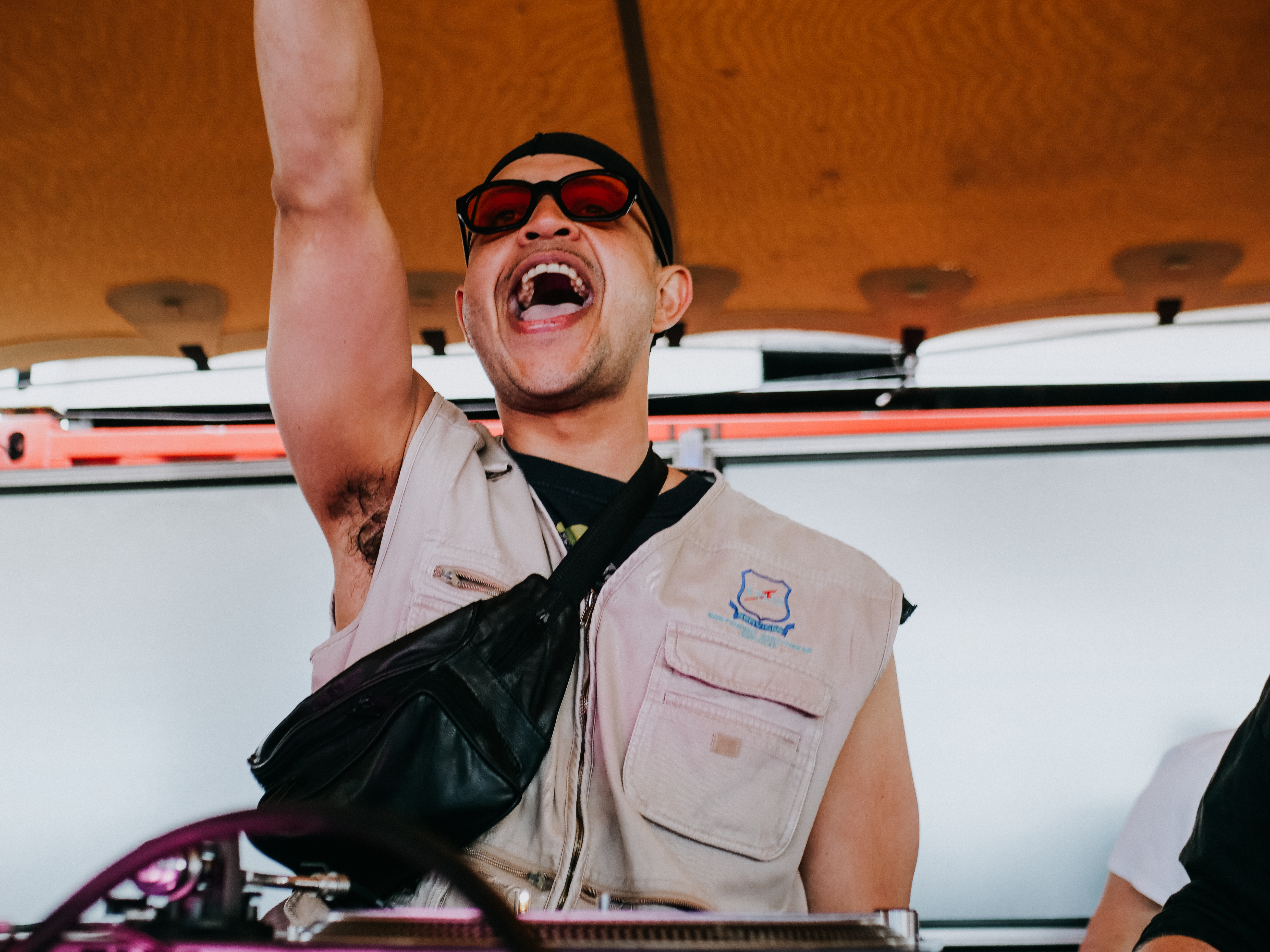 EMBY BY HANNAH MCCALLUM
With it being such a sunny day, it was thirsty work. This means that my notes from the day became slightly more 'loose' around the evening, but that's only the sign of a really enjoyable atmosphere (and an excitable writer). Between weaving between iconic names like Floorplan, Partiboi69 and Ross From Friends, there was almost too much goodness to take in while they all raised the sea levels around the Titanic Slipways with absolute pumpers with their own raving sensibilities.

While every corner of the site brought its own energy, the anticipation for hometown heavy-hitters Bicep was palpable. The impressive main stage wasted no space for its visual displays, an end-to-end screen that catered to the Belfast duo's new audio-visual experience they'd been working away on over lockdown. The visuals were worked on in unison with their sophomore album 'Isles' that climbed up to the No.2 spot in the UK charts. Sonically Bicep's set was as masterful as it should have been -amplified by the native crowd's welcome. The duo orchestrated their set with rich, layered drums and textures cut between euphoric vocal samples.



BICEP BY MOLLIEMCKAY
Added to that, the panoramic surroundings of the Titanic Museum, Harland and Wolff and Cavehill against a brilliant orangey twilight gave Bicep's audio-visual experience a completely immersive experience and felt like a quintessential moment and landmark of Belfast's music culture.

As far as bars set for the first day of a festival - it really doesn't get much higher.


SATURDAY

Feeling slightly rough underneath the excitement for another day, we made it down for Saturday's offerings. Thankfully, hangovers could be sweated out by somehow even more tropical weather, with the added support of some of the festival's tastefully curated food truck helpings.

Fed and watered, we made our way up to the already pumping Nomadic stage, where local head Matheson was making his Boiler Room debut. The young selector served up some electro breaks and techno vibes, complete with a great remix of Britney Spears, that functioned as a great introduction for the revellers coming in the gates behind him.

Diving in deeper into the day, we had the grooves of Kwame Daniels blasting from the Baltic stage for the ultimate feel-good vibes. Again, the forecast really lent itself to the Bounce Culture leader's selections, with his sunshine beats right at home on the waterside and warming up the day.

With temperatures rising, local wave maker Mark Blair was preparing to take the glass roof off the Nomadic stage. His reputation for blending Belfast appetites together meant his set was jam-packed with heavy drops, classic curveballs with weighty samples that earned him one of the liveliest crowds of the whole weekend. Plus a beautiful moment of Mark getting his folks behind the decks to go mad to an edit of Special D's 'Come With Me', cementing his 2022 AVA set as one that will be talked about for a while to come.


THE NOMADIC BY MOLLIE MCKAY

Similar to the day before, Saturday's lineup was riddled with gems from across genres and places, so we made sure to get down and check out the highly talked about Piri and Tommy, a live band that mashes up garage, DnB and house rhythms with brilliant live vocals, drums, guitar and at one point, some impressive cowbell. The energy of vocalist Piri was inspiring, she darted around the stage with great confidence and belief in her songs, which was fully justified as anyone who saw realised - they are a band going big places.


PIRI AND TOMMY BY MACY STEWART

Speaking of bands going big places, Galway's current champions of moody shoegaze, NewDad were preparing for their AVA debut. The band have been making serious waves with their aptly titled EP, 'Waves' that have seen them regularly rise through the ranks of BBC Radio 6's A list and seeing the progress of their live performance has been a delight. Watching them bashing out 'Say It', 'Swimming' and 'I Don't Recognise You' was a standout moment of the weekend.

Saturday evening's set times were as packed as they could have been, with unmissable acts spread across the stages causing some quick decision-making in an attempt to see as much as we could. We started for the Baltic stage to catch the end of Marion Hawkes, sharing her virtuosic collection with ecstatic energy. She had drummed up a great crowd with her selections and finished them off with some disco-tinged techno anthems - a joy to behold.


MARION HAWKES BY MACY STEWART
After that, a short walk over to the Main Stage which was filling up now, with Irish vocalist and rapper Biig Piig making her first appearance at the festival. Her soulful vocals and samples were a perfect match for the early evening sunshine, providing a lovely change of pace from some of the madness in the other stages - while still allowing for some steady grooving. Her band were incredibly impressive, the rhythm section dishing out smooth bassline drops and breaks that elevated her vocals into a justifiable main stage act.


BIIG PIIG BY MOLLIE MCKAY
While the festival felt like a return to normality, the current state of post-covid airline disarray was still able to find a way to throw a few hiccups in, with a few of the international acts having their flights cancelled. While obviously out of their control and a shame the final two acts of the Boiler Room couldn't make it - AVA pulled off the most serendipitous of lineup switches by filling in the spots with locals IMNOTYOURMATE and Kessler.

While Kessler lived clean up to his reputation and continued his knockout performance from the day before, IMNOTYOURMATE pulled off a set of a lifetime. Heavy hard-hitting beats that are perfect for a Belfast crowd's sensibilities. Many a top off, fists in the air while going mental for the hard stuff and chanting the tunes. Spine-tingling scenes.


THE GRASSES BY MACY STEWART
The final set I caught may have been one of my favourite sets I've ever seen. Overmono at the Grasses stage. The duo had their stage pumping with one of the most invested crowds of the weekend, their catalogue is full of perfectly sampled drums, irresistible vocals and the perfect tempo for a Saturday night sunset. Knocking out wonder-tunes until finishing on their standout of standout remixes in 'I Have a Love' by Irish artist For Those I Love. That moment for me was an apex in the power of collective musical experience, incredibly emotionally charged with some defiant euphoria thrown in for good measure.

All in all, it's no surprise that AVA 2022 was a statement of success. Two days of brilliant music, with more tastes catered to than ever before, all in the perfect surroundings to facilitate pure Belfast bliss.

2023 may hurry up.