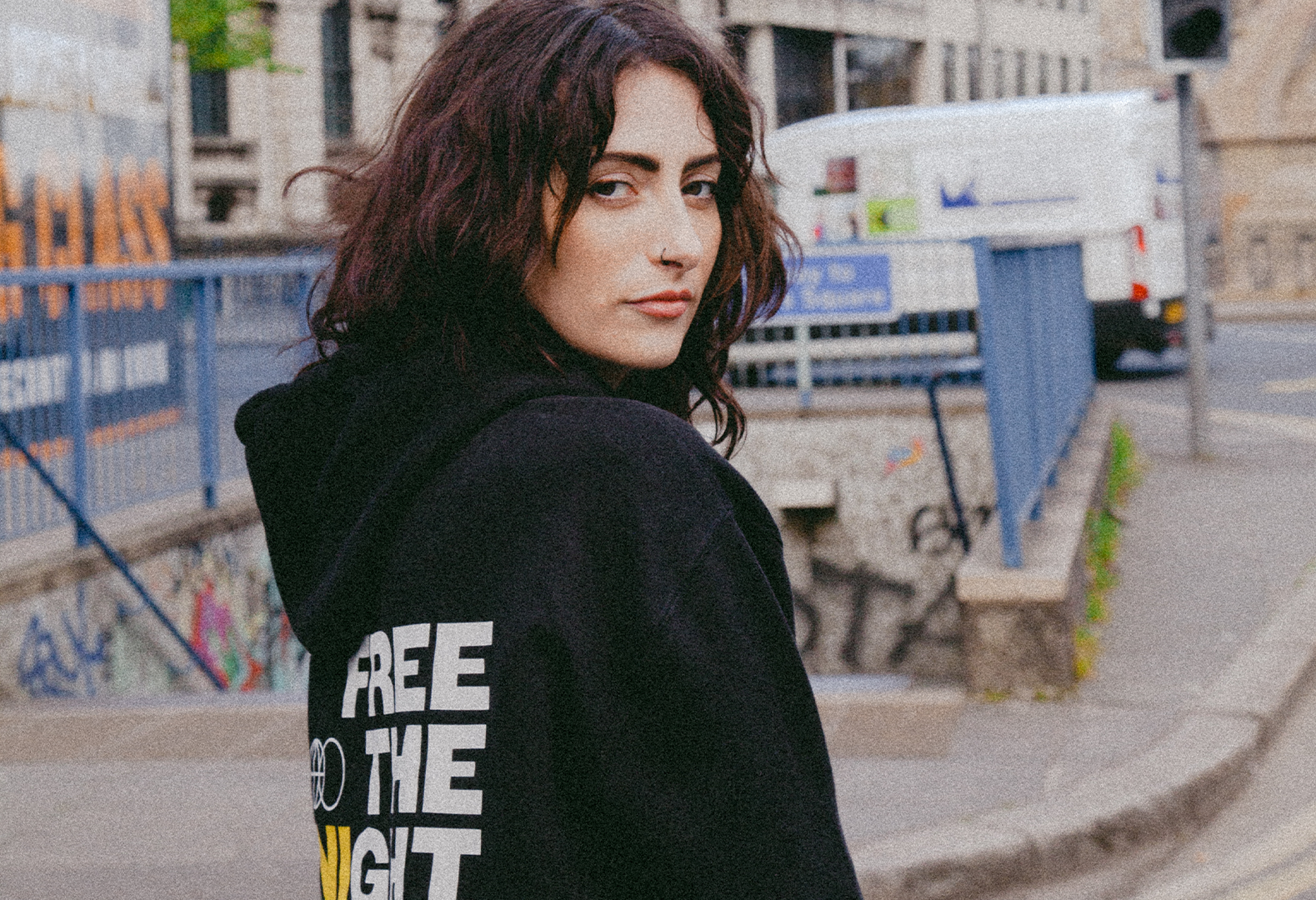 HOLLY LESTER - HEARS THE FUTURE
Interview by Addison Paterson
Photos by Hannah McCallum
WITH THANKS TO AVA FESTIVAL
Between post-restriction club rush and AVA right around the corner, the spotlight is on party culture in NI - the good, the bad, and the licensing laws.


There's a lot of work to get to level the playing field in comparison to European cities, and Free The Night are doing it. A non-profit committed to creating a safe, progressive and culturally rich environment for nightlife in NI from a grassroots level, the organisation was co-founded mid-pandemic by two well-established faces on the circuit: Holly Lester and Boyd Sleater. Shortly after FTN's fundraiser and industry Q&A at East Belfast's culture warehouse Banana Block, we chat to DJ and label runner Holly as she gears up for the party season ahead, facilitating the changes we all want to see within it.

So Free The Night. Beyond necessary, but I wonder - why now?

One of the main things is that there have been so many massive human rights issues that were only recently sort of resolved. Like gay marriage and abortion. We've had a lot bigger things on our plate to deal with, and that's taken up a lot of space — and rightly so. Now that they have been addressed there is space to sort of think about things that are less serious, but still important. The pandemic also gave creatives a lot of space to think about what was wrong and what needed to change, and that's personally how it happened for me. I didn't have any work during the pandemic, I wasn't touring. I had a lot of time on my hands to think, and I had only moved back to NI for a year and a half, two years at that stage. I'd seen what way things were in other cities, I'd been touring, and I'd come home. And while there had been massive movements with the things we've already mentioned, the scene was still sort of the same way it had been before I left — if not worse, actually. That was really when I started to think 'What can I do about this?' Because I know there's been a lot of talk about this for years, for example at AVA conferences this has been a hot topic for a long time. But nothing's actually ever really been done about it.






Makes sense. I guess there's a bit of privilege now that we can look at changing the culture, a better position than we have been in. In terms of mindset or mentality toward clubbing culture, how do you feel it differs here compared to cities elsewhere?

A lot of people don't actually realise how culturally important this [industry] is, the scenes they're participating in every weekend. There's obviously a lot of work for us to do in changing the mindsets of MLAs, but also quite a lot to do in getting the punters and promoters to understand that this isn't just a hobby, and that this is actually taken really seriously in other cities, and that they should be part of it. You have to use a certain type of language when dealing with policymakers, so we are getting into the habit of speaking a certain way about the industry, and that will hopefully start to change that mindset for a lot of people.

The party crowd here is generally quite young. What's your perspective on there not bringing quite as many spaces for non-heads, a more mature crowd, or people looking to enjoy dance music in a non-rave way to partake in?

Largely for me, it's down to the fact that a lot of these people have moved away to other cities. We talk about this idea of the creative drain, and I think it's something that's very prevalent in this country. People are going to places where there's more of a scene, more of an infrastructure. Even if they aren't creative, there's just more opportunity e for their social life. They can go to loads of different types of gigs; they aren't limited. There's just more variety and more diversity — and that's where you're going to find these people that are around my age and older who are going out, and who still feel comfortable going out. In Manchester, a lot of my friends are older than me and still going out, and it's great. It's nice when you're at a party and it's not just under 25s, it adds a totally different vibe. That is one of the things that's missing here as a result of these hurdles.

At the FTN Q&A you mentioned that niggling thought that I think creeps in for a lot of people every so often, where instead of waiting for that cultural shift here, you think 'maybe I should just move to Berlin or London'. I guess this comes down to accessibility, inclusivity in nightlife for people who aren't just students. Is there space within Free The Night for working toward that too?

We do talk about this all the time, and how important it is to have these different sections in the night, and how by opening up opening times, and having staggered closing times, each scene has space to thrive. By opening the market and diversifying things, it's just going to grow and grow. It's never a bad thing to do that. And we've seen this in other cities, but I think people here are scared of change here, which is really difficult.




That said, there's loads of new spaces and promoters alike: Banana Block, Sound Advice, Danse Intermission, Asphyxia, Plain Sailing… Really cropping up and changing the game. Who are you seeing doing that?

Yeah, What Peter and Andy (Plain Sailing) have done to the musical landscape of Belfast is amazing. I remember a time where there was probably only one promoter pushing music that wasn't 4/4. And probably with great difficulty, though I can't comment on those years because I wasn't here. But what Peter and Andy have done has changed things, and they seem to have hit it at the right time, as well. There seems to be a thirst for breaks, garage, two step, grime etc that never seemed to exist before. It's really amazing what they've done.

It's pretty big for the local scene when they're bringing over the likes of Two Shell or Rizla T and Belfast DJs are getting those warm-ups. What were the opportunities like when you were starting out?

I left [Northern Ireland] in 2011, so things were very different for me before that period. I'm from rural Armagh, I didn't really have the same introduction to the clubbing scene as other people. It was more sort of regional clubs that were playing trance and hard trance, and occasionally I would go to Belfast and experience the more underground nights. But it felt very shut off for me — very impenetrable for me. It was difficult for me to break in. It wasn't until I left and I started getting gigs in Liverpool in high profile parties that I sort of was given the chance, I suppose, to play here.

What kind of promoters and party crews were you working with in the early days then? I'm trying to think of what was going on around then — DJs would've been cutting their teeth in the likes of the Bunatee, right?

My first gigs here were with Shine, my first 'proper' gigs, if you wanna call them that. I did start DJing in rural venues when I was younger before I left for Liverpool. I did a few local bars, but it wasn't anything to write home about. I was sort of cutting my teeth, and getting out and having an excuse to play. The music definitely was not very good. So I went away and started to get recognised for what I was doing in Ibiza and Liverpool. That's when Shine kinda came knocking on my door. That was the first big promoter that I played for — I think it was Boxing Day 2013, or else Easter. It was in Room 3, The Speakeasy. Then eventually I did play the Bunate, which of course was an amazing experience. I never made it to Mandela Hall which I was gutted about, but have some very fond memories of that place. It was a brilliant experience.

How are you feeling about venue fatigue now? Ulster Sports Club is booked up months in advance. So many of the usual spots have either closed or are only just starting back up post-pandemic, and have changes to contend with.

I'm not gonna mince my words here, the state of the venue situation at the moment is diabolical. It's probably the worst that it's ever been, and I don't understand why a lot of people aren't talking about this. I feel like it's something we talk about all the time in the FTN team, but don't think other people really realise the severity of the issue at the moment. We are really on our last legs in terms of venues, and something needs to change. Obviously the pandemic is going to have a huge knock-on effect from that, and we're gonna be rebuilding for quite some time, but there are also a lot of other things we can start to address to encourage people to come to NI, to stay in NI; to want to open venues and invest in the scene— and it might not happen this year, but that's what we're hoping for long term. In five years, we hope we can see these changes and facilitate them. But I'm absolutely baffled why nobody is talking about this right now. It's really, really bad — and that's not to say that there aren't great promoters, there are some really great promoters in the city, some amazing club nights. But what we have at the moment does not equate to a good scene.



Outside of talking to their MLAs, what are the short term, everyday steps that promoters, DJs, punters can be doing?



This year there's quite an important part of our campaign coming up, in that there's a review of the licensing that should be actioned within the next year. We hope to instigate some changes within this, basically. This is going to be a very big part of our campaign, and we are going to be asking our followers and the community to publicly support us and help us in asking for these changes. This is something that people can physically do and help to create change. Which will obviously have a huge impact. Apart from that, it is talking to MLAs — not just emailing, tweeting them; it's talking in person and building these relationships with them. It's a very small city, everybody knows everybody. There's always somebody that knows somebody, whether they're a counselor or MLA, or someone at the Arts Council or similar organisations that are key in making a change in the creative community. It's just about developing those relationships and getting them to understand the cultural importance of this.


That's what we've been trying to achieve by doing the fundraiser and these panel discussions, trying to build relationships with people on the ground but also with those who are miles ahead of us in this game and have knowledge and experience to hand down. It's all community-driven.
That's another thing that's really important to us, that we do have the support of lots of people in the community. And also a really tangible way to support is by volunteering, something which we are in dire need of. We are a small team of volunteers, none of us get paid for this. We're all older, we all have many commitments, many work commitments, we're fully involved in the industry in some way; we'd really, really love it if we could find some younger people, maybe at university or just graduated, who'd be really keen to stick their teeth into the local scene, and help support it in some way.




What do you want to see for emerging artists and what advice would you have for anybody starting up now?

I hope to see more diversity here, that hopefully comes with the work we're doing for FTN. It's always been very white male dominated. That means everything's been done a certain way, some genres have been favoured more over the years. That's slowly starting to change, and we can see a glimpse of it now I think.. I just hope for that to continue. With more diversity in artists comes more diversity in music, new genres breaking through. That's when interesting things really start to happen.

In terms of advice, I always say to people that you need to be a face on the scene that you want to be a part of. That means going down to club nights that you want to be billed at, getting involved. Maybe it's helping out on the door, maybe it's online promo. Getting your foot through the door in some way so that they know you, and you become a regular face. That's when you start to get opportunities, like warm up slots, or someone asks you to do a mix for their series. Something like that is gonna happen whenever you're putting yourself in that situation. The only other way you're going to break through without doing that is if you're an exceptional producer. You need to be at the top of your game to get there without having done that leg work in those social circles. I also think it's really good to think about what kind of an artist you aspire to be like and have that path in your mind…
You don't have to be exactly the same as a certain person, but you have an idea of who you aspire to be like, and figure out the steps based on who you're aspiring to.

Loads of exciting things coming up, more electronica/downtempo events with Beyond the Pale, a few other dance festivals in their pilot years, and of course AVA being as big ever. In the next couple of years do you think we'll start seeing more of this stuff coming up, or do you think more change needs to happen before the city really breaks through?

I think there is a glass ceiling with this stuff. I don't think the solution is putting on more festivals, and more promoters. I'm not saying this shouldn't be encouraged, but I think there is a limit with it, just because of the restrictions that we face. In order for more festivals and promoters to flourish, these changes do sadly need to happen. I just don't think the infrastructure exists yet for us to think about having more of these things on the same scale as an English city of the same size, like Liverpool for example. It's totally different here, and the changes need to happen before we can think about that.


Aside from the moves you're looking for the city to make, what else are you looking forward to in the near future project-wise?

So I am actually starting a new label (Terrazzo), and it will be launching in the summertime. I'm doing that with my friend Steffan who runs Coymix with Timo from Echocentric Records andalsoGestalt Records on his own. He's been a great help to me with my own label Duality Trax, so much so that we decided to start a new label, which is gonna be a VA series.We're basically pooling together our demos that haven't quite formed a full EP — the demos we get sent for our own labels.

For Duality Trax, I have just announced DUALITY3 by young Dutch artist Tifra, with an amazing jungle remix on the flip by Roza Terenzi - one of my favourite producers of the last few years. That comes out on June 17th so keep an eye out for that one. DUALITY4 is scheduled to come out late summer with DUALITY5 coming out towards the end of the year. I'm very excited to share these ones, as I have been sitting on them for a while now due to big pressing delays with the most recent release. In terms of gigs, I'm thankful to be back on the road and playing some nice events in Europe. I'm back to Berlin in July and playing festivals in Croatia and Sicily for the first time this summer. I'm also playing DC10 in Ibiza for the first time in August, which I'm really happy about because that's somewhere I used to go clubbing when I did seasons in Ibiza ten years ago. It's a real full circle sorta thing for me. It goes without saying too that I am super excited for the imminently approaching AVA festival or 'techno Christmas' as we fondly call it here, and the vinyl DJ workshop I'm hosting for the opening event.


Sign up for Holly's Resident Advisor DJ workshop for AVA on June 2nd here & catch Holly at AVA on Saturday 4th, tickets & full line up here.

Join the movement - be it through volunteering with Free The Night, chatting to your MLA's, or turning up for your local nights and spaces (ideally, all three):


@freethenight

www.freethenight.org